The previous owner had a pendant light that we really liked, but it wasn't part of the sale. So we thought, 'No biggie, we'll just buy one.'  It didn't take us long to find it on Design Within Reach…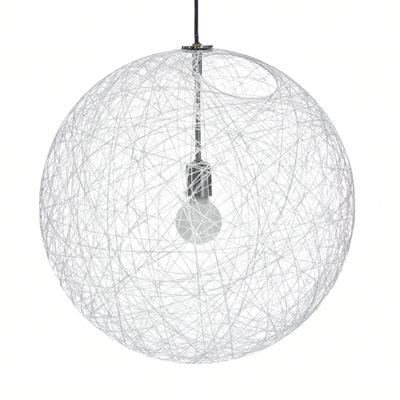 Nice right?  Yeah, about $2140.00 nice!  J & I just about fell off our chairs when we saw the price.  Sure, I can put in extra weekend shifts to buy a lamp, but WHY WOULD I?!?  So as we were searching around the web for cheaper versions, we stumbled upon a DIY site, teaching you how to make your own string pendant lamp.  J was all over it.
Since I had nothing to do on a thursday afternoon, I thought I'd give it a shot.  I initially started with acrylic yarn that proved to be too heavy.  It also didn't help when the balloon began deflating before the yarn dried.
So now the question is, how much are you willing to pay for a pendant light like this?